I will be getting ready to head to work soon, so I figured I would start this up now.
As Traditional for the AFAs, I would like to award SayJay with this
Certificate of Appreciation
from all of us members of the Academy of Fanart Artists. SayJay, we would be lost with out you and all of the incredible work you do to bring us this amazing ceremony. It has become a staple in our community, and something to make us each strive harder in our fanart. It is with much adoration and respect, that we thank you for bringing us this event tonight.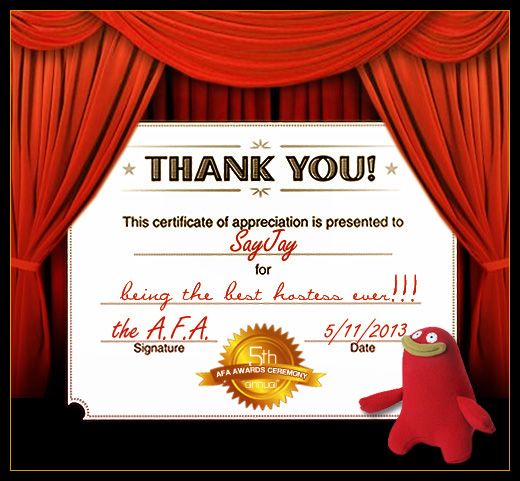 *For those that don't know, SayJay's friend Doyle from the Monster Factory has been kind enough to join us in presenting this award to our gracious hostess. Since he has traveled all over the world with SayJay, Doyle and I thought it only appropriate for him to be here tonight to celebrate with her.