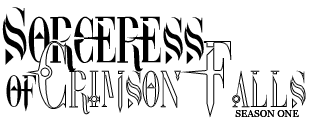 1x07 "Their Trial" [2]
Original Air Date: August 19th 2005
TARA: (VO) Willow, you are using too much magic!
FAITH: (VO) Previously on Buffy the Vampire Slayer…
Open to "Villains" WILLOW burst into the Magic Box. As she walks in lights around her explode. ANYA runs from behind the counter.
WILLOW: (VO) I need power.
Willow gestures with her head. All the books on the loft shelves begin to fly off the shelves and onto the table, landing heaped all over the table. The last book lands opened to a middle page. Willow walks over to the table and looks down. Shot of the open book with the pages covered in tiny writing. Willow lifts her hands and puts them on the open pages. Her hands sink into the book as if melding with it. The words of the book start to move off the pages and up her arms, curling and scrolling up under her sleeves. We see the words also coming up her chest, and moving up her shoulders to her face. She lifts her head and her eyes are black again. The words move to the top of her head and into her hair, turning her hair black. Cut to the forest, WARREN is tied to a tree as Dark WILLOW stands with her hand out.
WILLOW: Bored now…
Willow makes a casual gesture with one hand. A bolt of magic rips through Warren and tears the skin off his body in a single piece.
Cut to "The Killer in Me" KENNEDY and AMY stand in one of the UC Sunnydale classrooms.
AMY: This is not about hate. It's about power. Willow always had all the power, long before she even knew what to do with it. Just came so easy for her.
KENNEDY looks to AMY.
AMY: They don't know how weak she is. She gave in to evil—stuff worse than I can even imagine— she almost destroyed the world! And yet everyone keeps on loving her…
Cut to "Chosen" WILLOW sits glowing in a white light.
WILLOW: (VO) I can feel them, Buffy. All over. Slayers are awakening everywhere.
TARA: (VO) And previously on Sorceress of Crimson Falls…
Cut to the museum of Art and History. TARA is standing in a large white room. A much of strong burly men come by with large crates of stuff. JERRY stands beside her, making sure the movers don't drop anything.
TARA: What's the next exhibit?
JERRY: Ah, it is an amazing collection of warrior woman statues and scrolls and artifacts found threw out northern Africa.
Cut to EDAN'S training room, ANDREW and him still sit. The door burst open, a very pissed off LIZ walks into the room.
EDAN: Liz, you're-
LIZ grabs the collar of EDAN'S shirt and pins him to the wall.
LIZ: Why the hell did you send a vampire after me?
KENDAL: You did this?
WILLOW: How could you? You almost got us all killed.
LIZ: I quit.
EDAN: What?
LIZ lets go of EDAN and walks over to WILLOW, KENDAL and TARA. KENDAL crosses her arms.
KENDAL: I quit too.
FAITH walks into the door to the training room. By her said stands VI and RONE. FAITH, dressed in all black holds a stake in her hand, VI holds a few books and RONA has her arms crossed. Everyone turn to see them.
FAITH: Hey.
Cut to black.
TEASER
Open to FAITH tilting her head. She crosses her arms and grins, welcoming the commotion to her arrival. VI and RONA stand behind her, VI clutching a brown old book, while RONA places her hands on her hips.
FAITH: What? No balloons and big welcoming signs?
WILLOW: What are you doing here?
FAITH: Willow, good to see you too.
TARA places her hand on WILLOW'S shoulder; LIZ gives a sigh of disgust.
LIZ: This was your fault wasn't it?
FAITH: The trial?
LIZ: You almost got us killed. Do you have any idea what kind of mess you've made?
FAITH: Hey, this wasn't my idea.
LIZ: I don't care how high up you think you are. I know who and what you are. A Killer.
FAITH: Who I was.
LIZ: You can't change that easily, a killer at heart.
LIZ takes a step forward, FAITH punches her fist, obviously enraged at LIZ'S slewed comment. ANDREW step forward, still shaken up about LIZ'S blow out that went on moments ago.
ANDREW: Faith, what is going on? Why did they send you as well?
FAITH: Val' didn't cut it. They needed a slayer to watch these trials.
KENDAL: Watch us get killed?
FAITH grins at KENDAL.
FAITH: You must be Kendal; the newbie to the gang huh?
LIZ: This is ridicules. You're not welcomed here.
FAITH: And, what? You're going to stop me? I'm one of the original slayer-chicks. The chosen two! Bring your best to the plate slayerette.
LIZ, now totally pissed off, swings her right hook and punches FAITH right square in the face. Quick cut to black.
Opening, "Just a Girl" by AMY STUDT, credits about 1:09.
STARRING:
AMBER BENSON . . . . .
TARA MACLAY
TOM LENK . . . . .
ANDREW WELLS
KATE TODD . . . . .
KENDAL SHEERS
AMY JO JOHNSON . . . . .
ELIZABETH "LIZ" WILSON-BLOOM
CHANEY KLEY . . . . .
EDAN MIDMORE
And ALYSON HANNIGAN as WILLOW ROSENBERG
SPECIAL GUEST STAR:
ELIZA DUSHKU as FAITH
GUEST STARRING:
FELICIA DAY . . . . .
VI
INDIGO . . . . .
RONA
BONNIE DENNISON . . . . .
RUSEIYA the SEER
MELISSA GALINANOS . . . . .
DEE JONES
DON W LEWIS . . . . .
JERRY CORBIN
BETH BRODERICK . . . . .
MRS. SHEERS
NATE RICHERT as GARRETT
And ELIZABETH ANNE ALLEN as AMY MADISON
CREATED BY:
TRAVIS TRUANT-SIMPSON
Based on the Series Buffy the Vampire Slayer
CREATED BY:
Joss Whedon
WRITTEN BY:
TRAVIS SIMPSON
Some lore and characters based off Joss Whedon's 'Buffy the Vampire Slayer' owned by 20TH Century Fox & Mutant Enemy. No money is made off the use of these characters; they are used for pure entertainment. All original creators created by Travis Simpson / Digitalleonardo. 'Sorceress of Crimson Falls' is associated with 'Raven' and 'Broken Destiny'.